Google is the omnipresent feature on Internet. Whether you are online or not, Google will almost certainly find you/ your mention somewhere. Imagine a potential customer deciding to not do business with you because he/she 'Googled' you and what he found was not so flattering. It's like a disaster waiting to happen. What's being said/published about you/your business online is your Online Reputation and it's crucial to your success. Your online Reputation can make or break your business.
Why you need it:
It's the era of World Wide Web. You and your business is a part of this www mania. In fact it has become so big and so important, that today business are made and ruined on the WWW.
In today's time a business is defined by what appears about it on major Search Engines like Google, Bing, Yahoo etc. What appears here maybe right/wrong; true/false but it holds immense influence over the decision of millions of internet users. Hundreds of thousands of dollars are lost each day because of false, erroneous or misleading search engine results. The negative listings might originate from any of the myriad sources, ranging from your competitor to an irate customer; but bottom-line is they impact your innumerable potential clients and investors.
Any negative impact can have serious financial repercussions for your business.
Hence this calls for immediate action on your behalf to
Purge the internet of any false/ wrong report about your business

Work on ensuring that negative listing about you business are taken as far away from the eyes of your customers as possible.

Proactive measures are taken to build a positive online reputation for your business.
Every potential business partner/employee/customer/investor is going to go to Google to check you out. To understand your business better. It's pertinent that you make sure 'They like what they see'
What is it?
In brief, every single resource available online about you and your business constitutes your 'Online Reputation'. These resources can mention your business in positive / negative light depending on their context, writer and objective.
Negative mentions of your business can originate from various sources, like dissatisfied customer, hostile employee, malicious competitors etc. Every single business has innumerable enemies, who are bidding their time to strike your reputation, and ruin the trust and confidence you built with your customer over the years of business dealings. Such onslaught can not only harm the reputation of your company but can also impact your business in many ways.
How SERM/ ORM Helps:
Search Engine Reputation Management is a strategy that works on a two pronged approach:
Bail out the business from any Reputation situation they are facing

Build a systematic and through system to protect your Reputation from any future damage and threats
Reputation management service will respond to negative posts and comments in a systematic way to remove these damaging posts from the web using various strategies.
Its normal human tendency to gravitate towards 'the negative comments' about any situation/business/ person. So even a small negative comment about your business can generate lot of interest; and manage to get featured in the top 10 position of the SERP. And this is sure to lose a lot of business. All your online promotional efforts, SEO, SMO everything will go down the drain; as that negative comment drives away all your business & customers.
"The Web is where reputations are made and broken, and where buying decisions are made and broken"
– Elixir Interactive CEO Fionn Downhill
How ORM works:
The key to a good Search Engine Reputation Management strategy is to have an aggressive one for Search Engine Optimization. That's right, effective SEO can solve a lot of problems for your company. It has a two-fold effect-
It boosts the ranking of your website by optimizing the web content, and,
It pushes the "troublemaker" website, out of the top position relegating it to the third, fourth, fifth or sixth page of search engines.
That way, when Internet users look for information on your company, they find your website has a good ranking and the other websites carrying negative information don't catch their eye.
How it Damages:
Reputation is always vulnerable and fragile- be it for a celebrities, politicians or companies. A hint of a rumour somewhere, a small gossip on the grapevine, and a mysterious buzz among people can all swell into a problem of catastrophic proportions.
If any damaging content about your business is placed on a forum, or blog or any other online location; the extent of damage it can cause to your business is unimaginable.
Online Reputation is a mix of two factors:
'Reality' which is what you actually are, your true business ideals, customer appreciation etc.
'Buzz' which is what gets created via the true/false content being circulated about you. When an unethical competitor targets you secretly and posts malicious content about your business, this content spreads fast and creates a 'buzz' on the online world. Quite like the 'buzz' of the bees.
More than 80% of Reputation Damage Risk comes from a mismatch between 'Buzz' & 'Reality'
-SAP 2010 Reputation Management Paper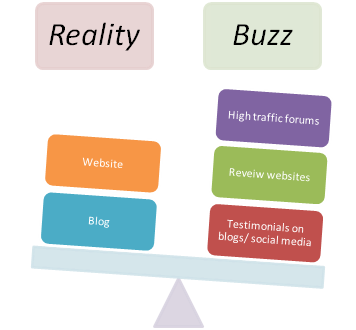 Currently your Online reputation is in a state of misbalance, as the 'Reality' of your business is published via very few resources namely that of your 'website', 'blog' etc. Whereas the 'Buzz' about your business is strengthened by being published via various resources like 'Forum', 'blogs' etc

Damaging Effect of Blog
Since blogs are cheapest and easiest to set up they are the most commonly favoured medium for posting content. Let us consider the example of damaging content being posted on a blogs. Most blogs are text based, which is the favorite part for search engines. The textual content of a blog attracts search engine spiders like flies to sugar. Result being that the content on these blogs is searched and indexed at fastest possible speed. How will it impact you? Well here's the final blow. Since the search engine has already searched and indexed the blog, when any customer does a search online for your business, the blog with damaging content, is most likely to come in the top 10 search results. The impact of which will be on your customer psyche – the customer will see the damaging content and form a negative impression about your business, even before you get a chance to interact with the customer.
SERM is all about turning the scales on your side. It focuses on taking various
measures, which will tip the scales your way and make your Online Reputation as positive as your business is. It's not only about minimizing the 'negative buzz' it's also about proper management of the 'positive buzz' so as to benefit your business from it.
Source of the Damaging content:
Dissatisfied customer

Former employee with grudge

Current employee with malicious intent

Unethical competitors

Distributor/ Supplier/ Reseller who have any unaddressed grievance
Damaging Content Appear where?
On a number of forums! These days there is no dearth of forums on which you can post negative reviews about anything on this planet.

Blogs are the most favored options as they can be set up in a few minutes, and incur hardly any expense.

Exclusive hate sites where nasty comments can be posted to the heart's content

Consumer sites to address grievances

Sites designed by law firms

Protest sites

Hate pages on Facebook and other social networking sites

Posting on micro- blogging sites like twitter

Social Network Sites

Review websites

False scam allegations
…there are opportunities galore out there, waiting to be discovered and exploited.
Advantages:
Protects your corporate image from harm

Helps avoid other repercussions like

Crippling of your revenue performance due to drop in customer base

Plummet of your stock value due to falling investor confidence

Helps in smooth running of your employee recruitment and retaining process; which can be thrown in disarray due to damaging content posted by any disgruntled employee
Imagine what negative comments can do for your company. The will be the least of your worries, once you think about the. In light of all these points you can decide for yourself, how important Search Engine Reputation Management is. Get in touch with us today to find out more!
It has been noted that over 90% of people do not go beyond the 3rd page of the search results.
What we provide:
Step 1: Understanding
Understanding your Business/ Product/Service, industry and website
Step 2: Identifying Problem
Zeroing in on the major 'Search Engine Reputation Problem'
Part A: Active Monitoring of Content:
List targeted Keywords

List website, blog, forum etc ranking high for targeted keywords

Monitor aforesaid media

Monitor website linking to your website

Set up news alerts for your brand name

Use site like 'Feedster', 'Technocrati' etc to monitor blog

Customize RSS feed

Tracking all important names, like brand name, key employee name, etc

Monitor Industry specific sites
Part B:
Proactive Reputation Management:
Creation of Micro/Sister sites

Social Media Exposure

Creating Blogs on various platforms

High-Quality

Link Building

Press Release / Syndicated Articles

Utilizing the multimedia platform like 'video' , 'animation' etc

Industry specific forum/blog participation
Step 3:Progress of all the proactive and active measures is regularly checked and adjusted as per requirement
Step 4:High Quality monthly reports are sent to you for your monitoring, in a summarized and easy to read format
We work quickly and effectively, to make sure that you have result in as few days as possible. However our focus is to give you sustainable results, and hence we do not guarantee any fixed timeline, because the time required may vary from case to case.
What we do guarantee is sustainable results that will be useful in the long run, not just a quick fix.
Services to monitor your brand:
Spotting exact Search Reputation Problem

Listing websites, blogs and consumer developed media ranking high on search engines for your firm associated keywords

Tracking variations in spelling or use of the company name.

Monitor websites that are linking to your company URL or where they are mentioned online.

Monitor information about any of your company's product or service names

Setting up Google and Yahoo Alerts to instantly identify the use of your brands in the news.

Using sites such as Feedster, BlogPulse and Technorati to monitor your brand in blogs.

Customizing RSS feeds for brand tracking.

Tracking for all names including brand names and key employee names.

Monitor industry-related sites.
Removing Negative Search Results
Our experts endeavors to remove all kinds of unfavorable results pertaining to your products, services, brand name and website from the first page by displacing them with positive links and neutral content. Our comprehensive reputation management services include the following:
Sister Sites/ Micro Sites:
Our team creates micro/sister sites targeting specific keywords or theme for your main website. These micro sites are content rich and regularly updated to keep them fresh and garner traffic. Social media is used to provide more visibility to these sites.
We take care to host these sites on different IP address, and different server; so that we can link them naturally and promote them in an organic manner. Utmost care is taken of technical details to avoid unwanted automated penalties from major search engines.
Social Media Exposure:
Social Media is the crux of SERM; this is the source of many potential problems which you can easily avoid by being present on the social media scene. Our experts build accounts for your business on the various social media sites, like Facebook, Twitter etc. These accounts are then leveraged for projecting a positive brand image.
Link Building:
SERM is not only about working on the outside; it involves working on your site too. Our team of experts will work on generating high quality links from relevant website to your websites. These links will help in creating a positive impression on customers.
Blogs:
Blogs are content rich, interactive forum. And when posted to at regularly they are loved by search Engine's unanimously. Our team will work with you to create blogs on various blog platforms. These blogs will be managed by feeding them with regular fresh content. They require extensive maintenance, but their 'Search Engine Friendliness' makes them an excellent tool in SERM.
Multimedia Platforms:
Video is the latest thing in the 'Online World'. Everyday reams of video are uploaded on numerous 'video sites' Our SERM experts, work with you to generate interesting and captivating videos which are then loaded on video sharing sites and spread out via our micro-sites and blogs
Press Releases/Syndicated Articles:
Our team works to create some insightful and positive Press Release about your business and these are then submitted to effective PR networks. Additionally if your company has existing pres release our team works on increase the reach of that press release.
Participating in Industry specific blogs/ forums:
We know how important it is to be active in your industry. The more proactive you are in your industry the better authority you are considered in the same. Our team works on creating profile for you business on these industry specific forums and helping you build a positive image via them.
We constantly check the progress of our work and report the progress to you on a continual basis

All work is checked for high quality and summarized in easy-to-read Monthly Reports.
Suppressing negative listings by surrounding them with positive, authoritative listings.
Repairing an online reputation takes continuous effort; the desired effect is a set of sustained results, notjust quick fixes that lose traction once the contract terms have been fulfilled.